Yep, that's right guys! I actually DID it! I finished a DIY project. (applause) So I found out why the necklace probably costs as much as it does. It took me freaking AGES to make this. I'm talking like 3 hours of bending over my kitchen table labouring away. I now have felt the pain of the 5 year old Chinese kids that probably work in sweatshops for Free People.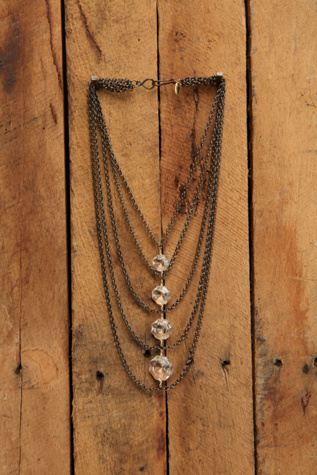 So here is the ridiculous $168 necklace from Free People versus my $45-ish necklace.
Above you can see the stuff I used although I swapped out the gold wire for some other stuff because it kept on breaking my beautiful Swarovski beads (which are actually chandelier parts). Thank god I ordered double the amount I needed! Right, so I learned 2 lessons: sweat shops are very bad, stores earn a butt-load of $$$. Oh, and I'm so excited to show you guy all my shopping damage! But now I have to go to sleep because I have an 8:20 AM flight to catch. Ugh.
Queen of Mayhem